Redesigned classrooms and changed working practices in offices could offer an exit from coronavirus lockdown measures, Scottish First Minister Nicola Sturgeon has said.
The Scottish government published a new document on Thursday setting out how it will approach plans to lift the COVID-19 lockdown.
Ms Sturgeon warned that social distancing measures might be in place in some form beyond the end of this year, but outlined how schools and some businesses might reopen prior to that.
"It may be that some businesses in some sectors can reopen, but only if they can change how they work to keep employees and customers two metres distant from each other," she said.
"With schools, classrooms may have to be redesigned to allow social distancing, so maybe not all children can go back to, and be at, school at the same time."
She added that "some limited outdoor activity might be able to restart earlier than indoor activity", but added "big gatherings and events are likely to be off for some months to come".
It came as it was revealed:
the number of deaths in English hospitals of people with coronavirus has risen by 514, bringing the total to 16,786;

the number of deaths in Scottish hospitals of people with coronavirus has risen by 58, bringing the total to 1,120;

the number of deaths in Welsh hospitals of people with coronavirus has risen by 17, bringing the total to 641.
Ms Sturgeon described her government's document as a "first cut", designed to begin a "grown-up conversation" about how to begin "restoring a semblance of normality to our lives".
She stressed the possible steps discussed in the paper were just options for the time being and would be reassessed as necessary, with a "detailed plan" to be produced later.
The first minister also warned Scots to prepare for a "new normal" and a "way of living alongside this virus" because "a return to normal as we knew it is not on the cards in the near future".
"Talk about lifting lockdown as if it's a 'flick of the switch' moment is misguided," she added.
"Our steps, when we take them, will need to be careful, gradual, incremental and probably quite small to start with.
"We'll need to assess them in advance and monitor them in action – sometimes… we may even have to reverse things."
She admitted there was a "real risk", as lockdown measures are eased in the future, that "COVID-19 runs rampant again".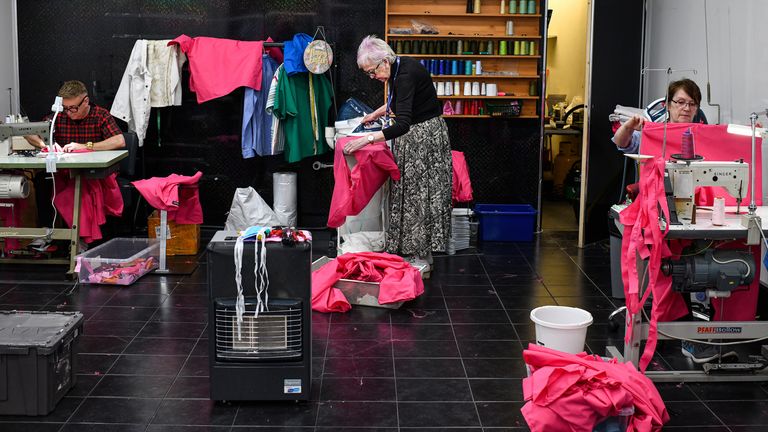 Ms Sturgeon's willingness to discuss how the lockdown might be eased is in contrast to UK government, which has so far refused to discuss how or when strigent measures might end.
Ministers at Westminster have voiced fears that discussing an end to the lockdown might dilute their key message to the public, who are being told to stay at home to slow the spread of coronavirus.
Within the Scottish government's document, it states: "Easing restrictions in particular settings is likely to see the continuation of physical distancing and other hygiene measures (such as maintaining 2 metre distancing when premises re-open and/or limiting the number of people that can be in confined spaces at the same time)."
More follows…
Source: Read Full Article