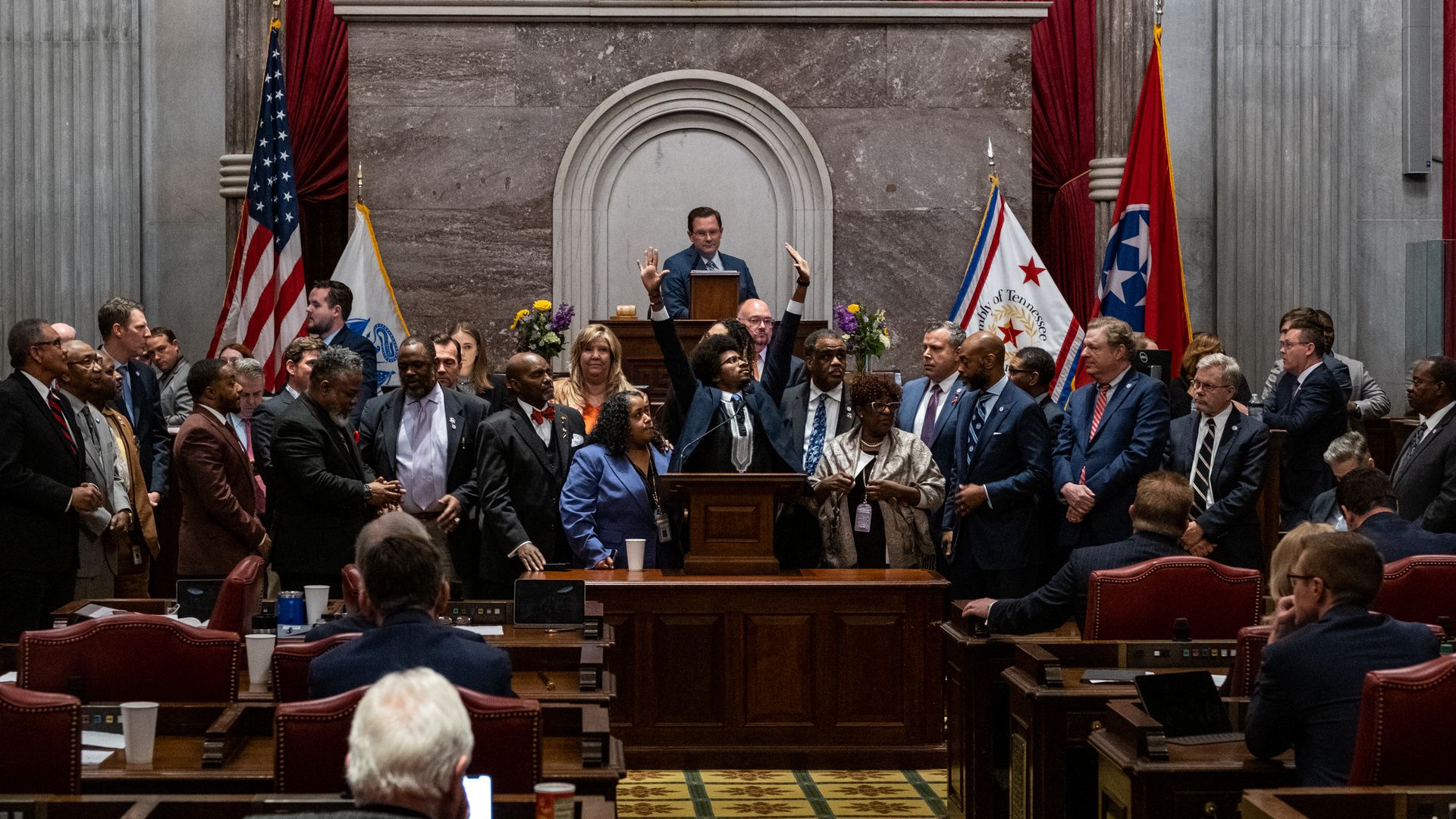 Justin Pearson acknowledges supporters after being expelled from the state Legislature on April 6. Photo: Seth Herald/Getty Images
A trio of Tennessee Democrats who were subject to expulsion votes over a gun reform protest has captured national attention as observers grapple with the potential impact amid roiling debates over the gun issue.
Driving the news: A Republican-led effort to expel the state lawmakers —dubbed the "Tennessee three" — succeeded in ousting two members of the group, Reps. Justin Jones and Justin Pearson.
An effort to expel Rep. Gloria Johnson failed by a single vote.
The lawmakers' protest came in the wake of a school shooting in Nashville that left three children and three adults dead.
The big picture: Allegations of racism have swirled following the vote, given that both Jones and Pearson are Black while Johnson is white.
The effort could also have a greater rippling effect on state legislatures across the country, with experts warning it could further embolden majority party lawmakers to punish minority party members with divergent political positions.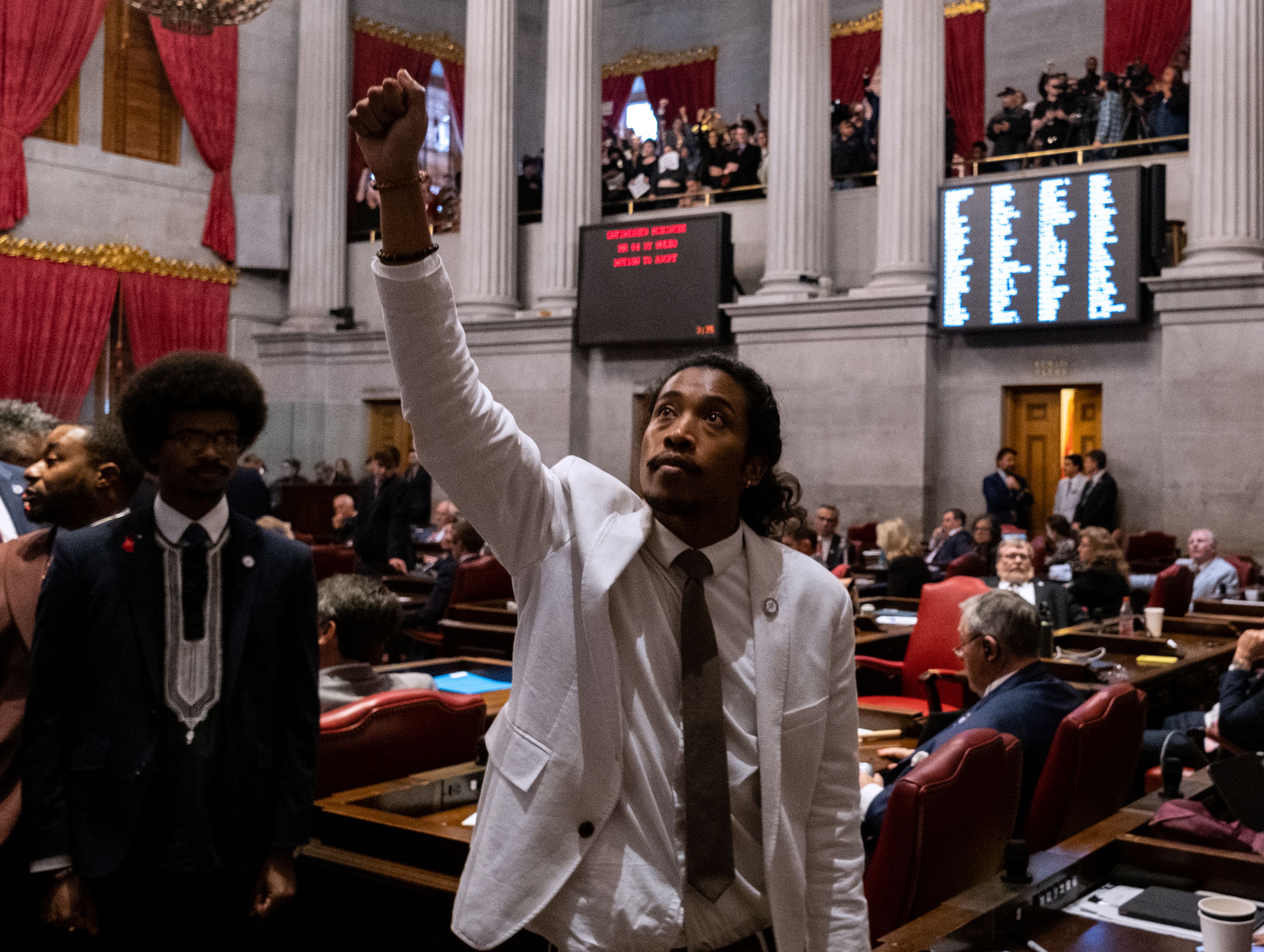 Justin Jones
At 27 years old, Jones was one of the youngest members of the state House prior to his expulsion. The community-organizer-turned-lawmaker was elected last year to represent parts of Nashville.
Jones has Black and Filipino heritage, was born in Oakland, California and is a graduate of Fisk University in Nashville. He has been working towards a master of theological studies at Vanderbilt University, according to his campaign website.
State of play: "We called for you all to ban assault weapons and you respond with an assault on democracy," Jones told lawmakers during the debate to expel him, CNN reported.
Jones was expelled in a 72-25 vote.
His absence from the state House could be brief, wit a special Metro Council meeting set for next Monday on filling his seat. The expelled members can run again for their old offices.
"I'm hopeful because I saw thousands of people — and in fact people across this nation, I would say, millions — who are paying attention to what happened and are challenging it, saying that it was wrong," Jones told MSNBC's "Morning Joe" on Friday.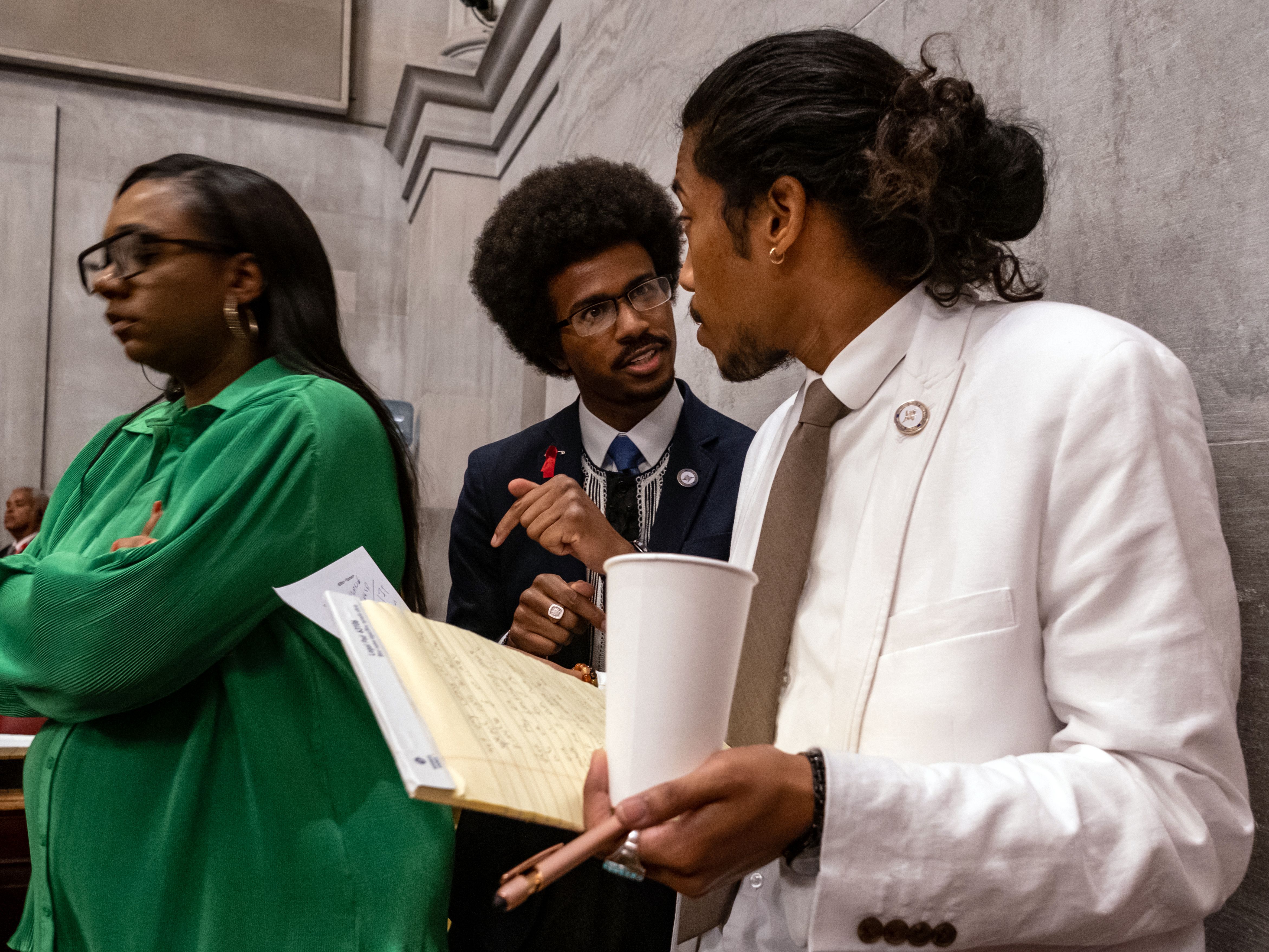 Justin Pearson
Pearson, 28, won his seat in a landslide earlier this year to represent parts of Memphis.
A Memphis native, Pearson is a graduate of Bowdoin College in Brunswick, Maine, where he studied government and legal studies and education studies, according to his campaign website.
He has worked as a community organizer focusing on environmental and social justice.
He founded and co-founded organizations including the Memphis Community Against Pollution and the Memphis Community Against the Pipeline, respectively, to oppose a proposed crude oil pipeline project that could have impacted the city's drinking water, per his website.
State of play: Pearson, who was expelled in a 69-26 vote, has spoken openly about the way his life has been impacted by gun violence.
The fight for gun reform "is personal when you lose your friends, when you lose loved ones," he told the New York Times.
Pearson told ABC News' "Start Here" podcast he recently lost a classmate to gun violence.
"We will not stop. We will not give up! We will continue working to build a nation that includes, not excludes, or unjustly expels," Pearson tweeted Friday.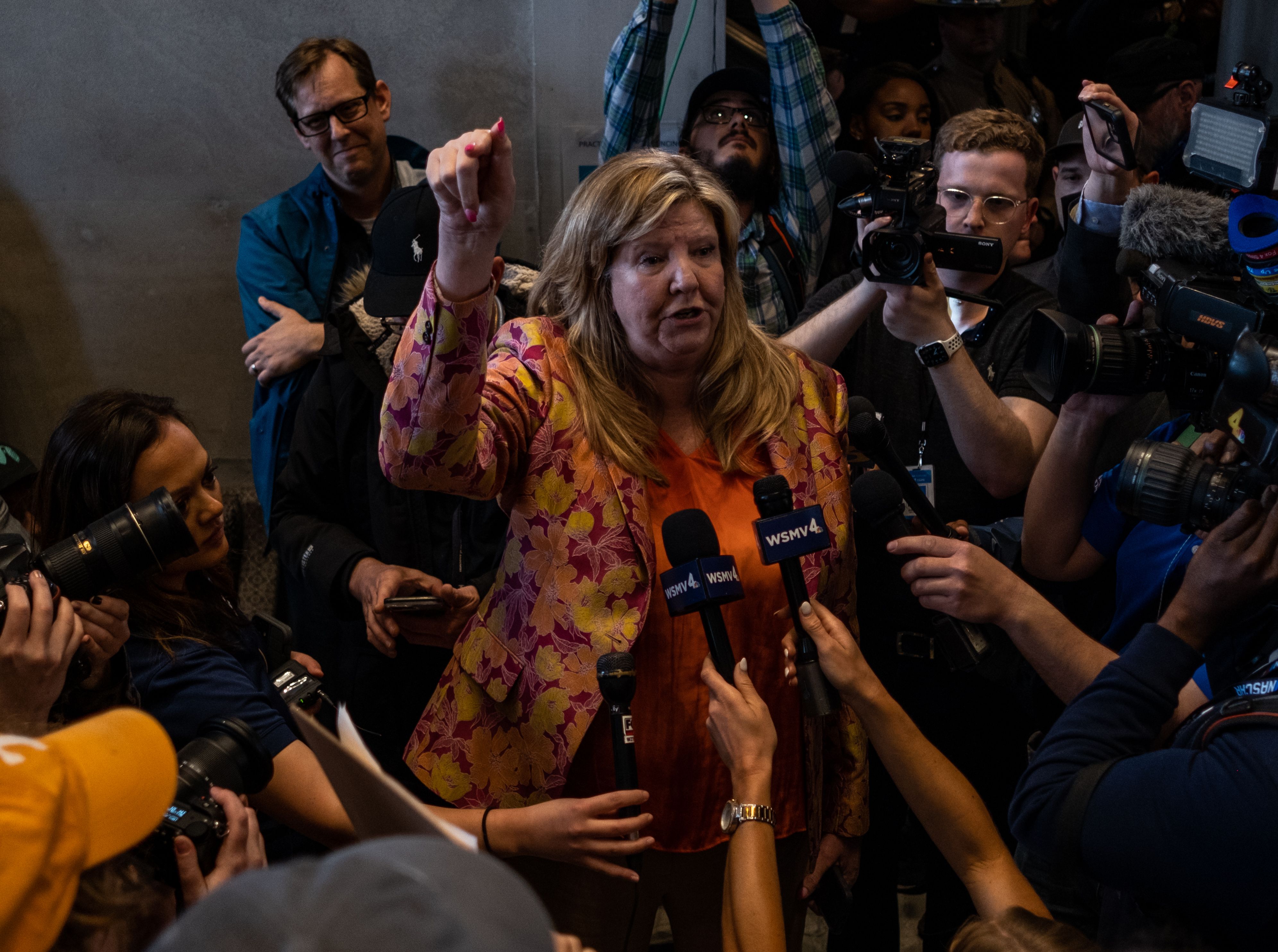 Gloria Johnson
Johnson, 60, is a former teacher who was elected to the state House in 2012. After losing the 2014 race as an incumbent and a repeat contest in 2016, she returned to office in 2018 and represents parts of Knoxville.
Born in Colorado, Johnson's family moved around during her childhood before settling in Knoxville when she was in the seventh grade. Johnson is a graduate of the University of Tennessee at Knoxville with a degree in education, per her website.
Johnson has taught at both the elementary and high school levels. She previously worked as a field organizer for former President Barack Obama's 2008 campaign and served as the Knox County Democratic Party Chairwoman.
During her 27 years as a teacher, the issue of gun violence and school shootings felt personal, per interview she's given. She spoken about being a teacher at Knoxville's Central High School during a shooting in 2008 that left one person dead.
Johnson told the New York Times that she recalled, "the terror on the kids' faces as they were running down that hill into my classroom."
"As someone who worked in a classroom where we lost one of our students, you never forget the faces, the people, the children, and the traumatic experience. And we do not want that to happen to another child and another school," Johnson told ABC News.
Source: Read Full Article