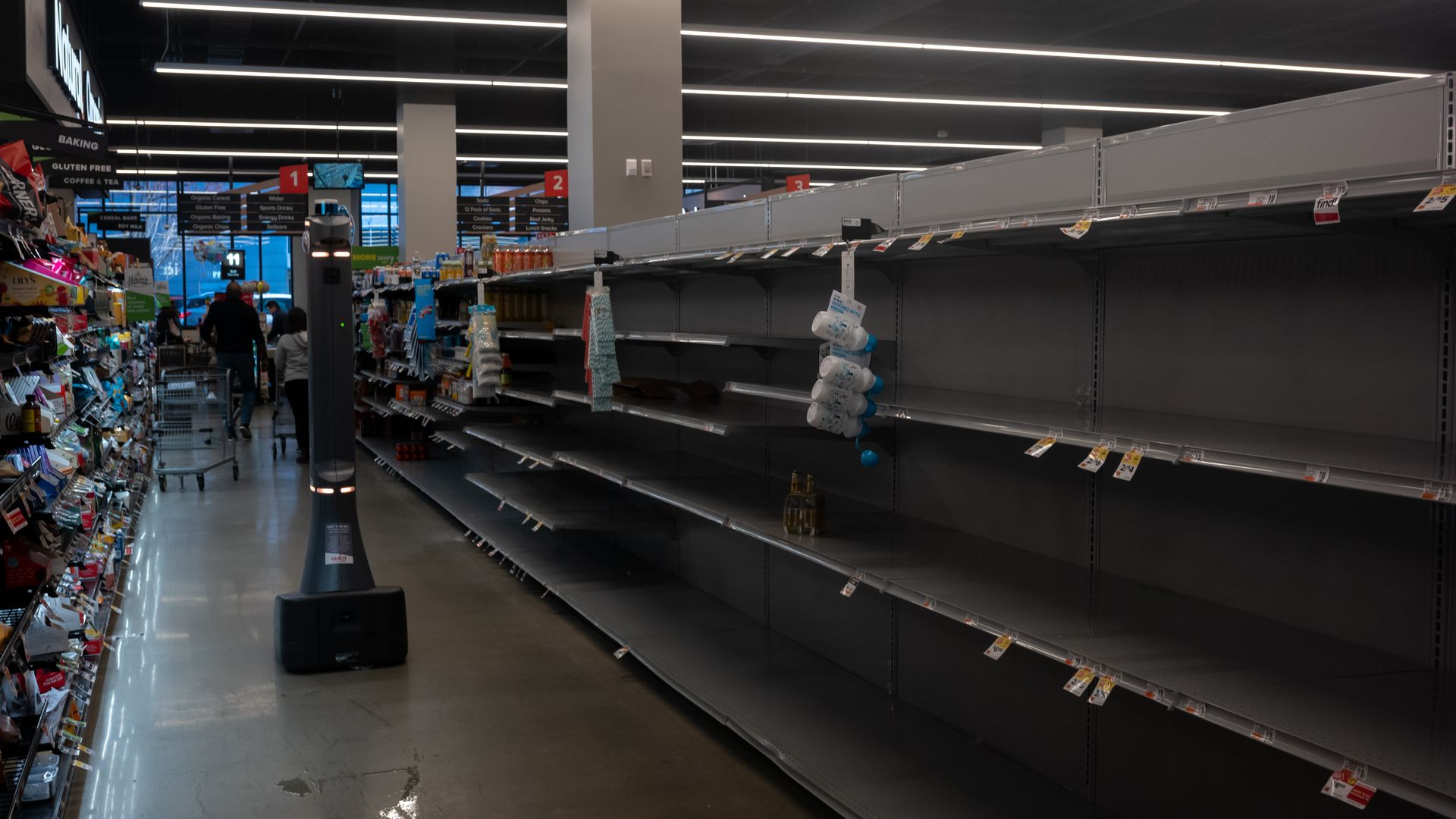 Sold out water section in Giant Supermarket in the Fairmount neighborhood of Philadelphia, Pa., on March 26. Photo: Thomas Hengge/Anadolu Agency via Getty Images
Philadelphia officials say that the city's water is safe to drink until at least midnight tonight after a chemical spill in the Delaware River.
Driving the news: "The water that is currently available to customers has been treated and tested to confirm that it is safe to drink and use for bathing, cooking, and washing," the city said in an update at 1:30 p.m. on Monday.
"This assurance is due to the treatment and continuous testing of water that is currently available to residents," the update said.
City officials added that residents "who want to make sure they have water available can fill bottles or pitchers with tap water with no risk at this time."
What we know about the chemical spill
A chemical spill took place late Friday at a Trinseo PLC plant as a result of what the company said appeared to be "an equipment failure."
The company said that about 8,100 gallons of a water-soluble acrylic polymer solution flowed into Otter Creek, which is a tributary of the Delaware River.
Latex emulsion is about 50% water and 50% percent latex polymer, per Trinseo. Butyl acrylate, which is one of the chemicals released from the train derailment in East Palestine, Ohio, was among the materials released, per the New York Times.
"Some of the material overflowed the on-site containment system and entered a storm drain, where it flowed to Otter Creek and then to the Delaware River," Trinseo said.
In addition to Pennsylvania, the Delaware River basin provides water to Delaware, New Jersey and New York.
What city officials are saying
Philadelphia officials initially told residents Sunday afternoon in a text alert that they should consider using bottled water "out of an abundance of caution."
Officials then changed course Sunday evening and said that residents could use tap water for drinking and cooking.
"Testing has not shown the presence of water impacted by the spill in the Baxter system at this time," officials said in a 3:30 p.m. update on Sunday.
The Philadelphia Department of Environmental Protection also said Sunday that "contaminants have not been detected at drinking water intakes at this time."
On Monday, officials maintained that tap water was safe — at least through 11:59 p.m.
How Philly residents are reacting
Residents rushed to stores to stock up on water bottles after the city's first alert on Sunday.
Sayed Ahmad, whose family owns the local grocery chain Cousin's Fresh Market, told The Philadelphia Inquirer that all four of his family's stores were out of water bottles within two hours of the Sunday alert.
The customers "were not buying 'It is safe right now,'" Ahmad told the Inquirer. "They were panicking. They were confused."
Water is still available at Acme supermarkets, which has 17 stores in Philly, spokesperson Dana Ward told Axios' Michael D'Onofrio.
Acme has been making extra water deliveries to its stores since the bottled water advisory on Sunday and has the potential to truck in more, she said.
The store's officials continue to monitor the situation.
"We're in stock. We're in business. We'll keep delivering until we don't need to anymore," Ward said.
What's next: The Philadelphia Water Department "continues tracking the spill" and will provide updates as more information comes available.
The city will provide another update at 5 p.m. Monday.
Go deeper… East Palestine's record of devastating derailments
Editor's note: This story will be updated with additional information throughout.
Source: Read Full Article