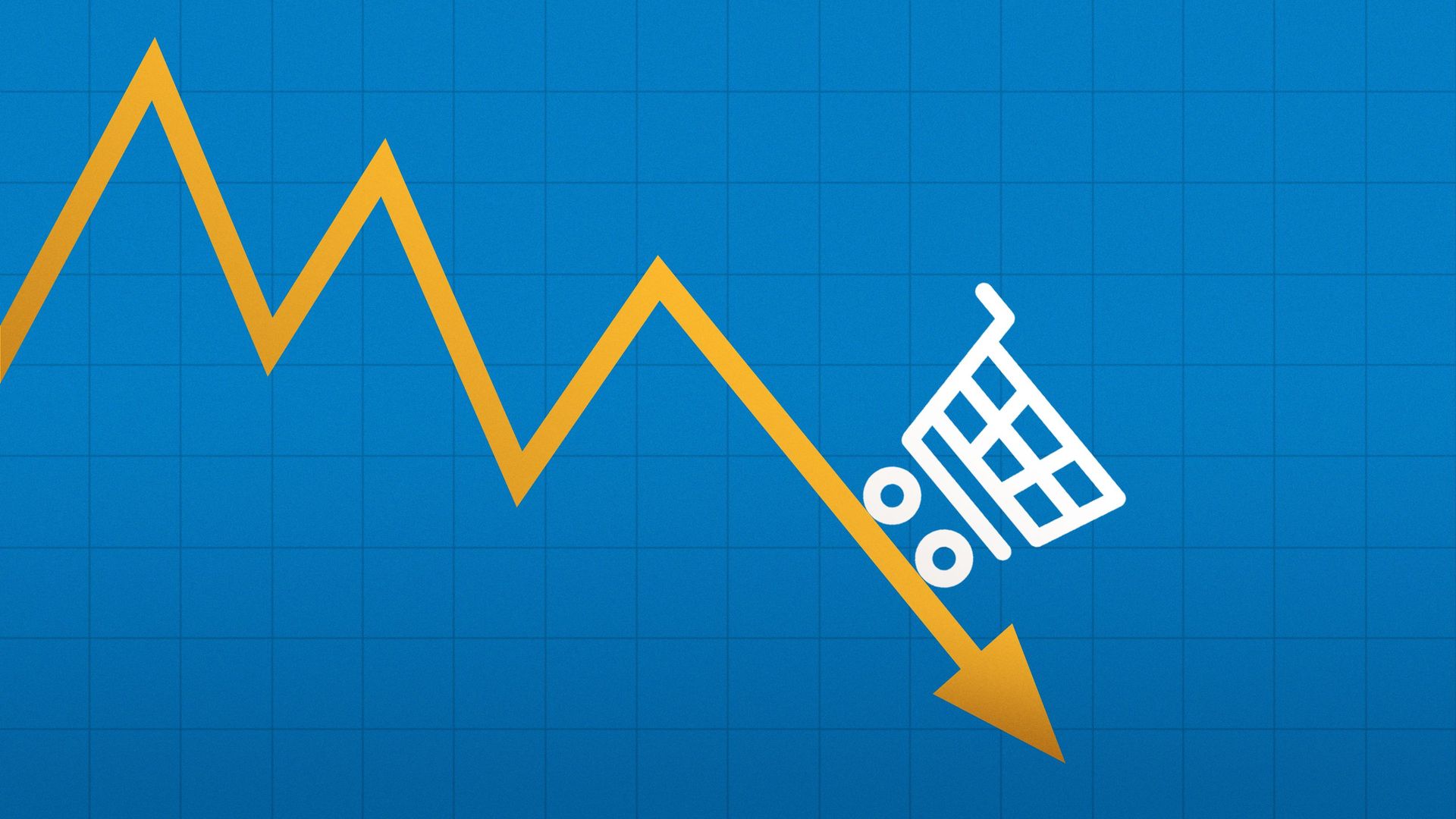 Illustration: Allie Carl/Axios
American consumers are pulling back — and that is the clearest sign yet that the rip-roaring economy of the past couple of years may be giving way to something else.
Why it matters: For all of the economic ups and downs within the past year, the consumer has largely been a consistent bright spot. But higher interest rates, persistent inflation and shrinking excess savings may finally be beginning to take hold and forcing consumers to cut back.
If sustained, the implications for the economy are huge: Consumer spending accounts for about two-thirds of economic activity.
And there are risks ahead, including a possible pullback in lending that would crunch consumers further.
Driving the news: Retail sales fell 1% in March, the Census Bureau said Friday morning, which followed a 0.2% drop in February. Even excluding gas stations affected by lower fuel prices, sales were down 0.6%.
Declines included categories like general merchandise stores (-3%), electronics and appliances stores (-2.1%) and building materials and garden equipment retailers (-2.1%).
In a marked deceleration, sales were up 7.6% on a year-over-year basis at the start of 2023, but that has now fallen to 2.9% — below the rate of inflation during that span, meaning that in real terms, spending has declined.
What they're saying: "While job and income gains remain strong, the cracks in the consumer sector are widening and a negative shift in hiring activity could be the final blow to place the economy in a recession," Ben Ayers, a senior economist at Nationwide, wrote in a note.
Between the lines: With more data coming in, it's looking like the spending surge that started the year was an outlier — with increasingly softer spending as the quarter progressed.
The big picture: Slower consumer spending is confirmed by private sector data, too. Spending on credit and debit cards per household at Bank of America rose just 0.1% year-over-year in March.
That's the slowest pace since February 2021, owing in part to slower wage growth, smaller tax refunds and the expiration of a pandemic-era food assistance program, BofA says.
The other side: Early commentary from earnings calls suggests a more upbeat picture of the U.S. consumer.
On spending, CFO Jeremy Barnum of JPMorgan, the nation's largest bank, said in an earnings call Friday morning that the bank has not "observed any notable pullback throughout the quarter."
Source: Read Full Article