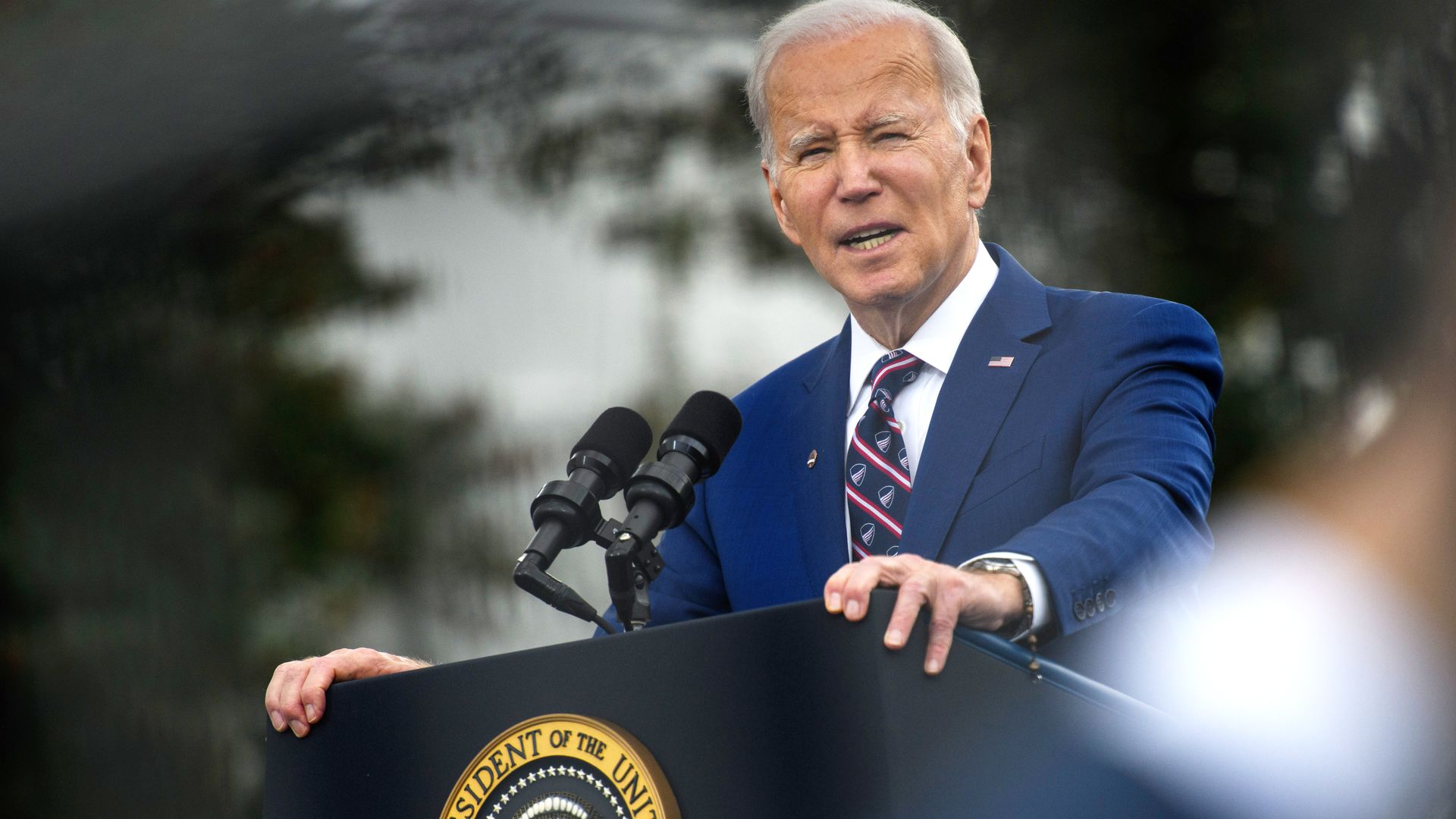 President Biden. Photo:
President Biden told reporters on Tuesday that the Israeli government can't "continue down this road" with its judicial overhaul plan and stressed he is not going to invite Israeli Prime Minister Netanyahu to the White House "in the near term."
Why it matters: It's the first time Biden has spoken about the judicial overhaul, which has rattled Israeli society, on camera. Netanyahu suspended the legislation on Monday after months of mass protests, a strike that affected much of the country, and calls from some of Israel's closest allies, including the U.S., to build a broad consensus around the plan.
Biden's comment on an invitation for Netanyahu to visit the White House underscored how tense relations between the Biden administration and the Israeli government are at the moment.
Biden told the New York Times earlier this year that any fundamental changes in Israel's judicial system should be based on a consensus to get legitimacy from the public and be sustainable.
He also called Netanyahu earlier this month and expressed concerns over the plan.
What he's saying: "Like many strong supporters of Israel I'm very concerned. I'm concerned that they get this straight. They cannot continue down this road. I've sort of made that clear," Biden said in North Carolina, where he was kicking off his "Investing in America" tour.
Driving the news: Earlier on Tuesday, U.S. Ambassador to Israel Tom Nides told Israeli army radio that the U.S. welcomes Netanyahu's decision to suspend the legislation but added that the Israeli prime minister could be invited to the White House after Passover.
Later in the day, Nides walked back part of his remarks and said no date was set for such a visit.
A spokesperson for the White House National Security Council said there is no plan for Netanyahu to visit Washington.
Source: Read Full Article