OPINION:
It should have been a positive in New Zealand's first week of Covid vaccinations.
A round of impromptu dosages for Auckland health workers a month ahead of schedule ensuring nothing went to waste.
Instead, the mishandling of communications and frontline logistics in the epicentre of the current Covid breakout led to some South Auckland GPs and community workers being turfed in favour of hospital staff – many of whom are at lower risk of exposure to Covid.
Consistent with other aspects of the pandemic response, the developments raised concerns around who was responsible for what, whether resources were being appropriately prioritised, and if an overall, evidence-based plan was in play. Let's take a look.
The Pfizer/BioNTech vaccine
The current campaign is billed as the "largest immunisation programme in our history". Prior to its February 20 kick-off, the Ministry of Health assured us "repeated trial runs of our processes and systems" had occurred.
Since then, much has been made of the specific properties of the Pfizer/BioNTech vaccine being administered.
In the Monday press conference, Prime Minister Jacinda Ardern reiterated its five-day shelf-life and the "ingenuity" which had led to six dosages rather than five being extracted from a single vial.
That extra dose per vial meant there was a surplus of defrosted vaccine for the week.
Here it is important to consider the wider context of immunisation programmes. It is not unusual for vaccines to have limited shelf-lives and require specific storage conditions.Accounting for excess supply is also standard practice.
In large-scale rollouts like the current one, those factors mean thorough planning and clear communication around who is due to be vaccinated and when is critical.
Additionally, having a backup system – whether it be in the form of standby lists or planned overbooking of vaccination appointments to account for no-shows – is also essential.
Confusion erupted last week because it was unclear who qualified to be on a standby list and why.
While the ministry is ultimately in charge, the responsibility at an operational level in Auckland lies with the Northern Region Health Coordination Centre (NRHCC).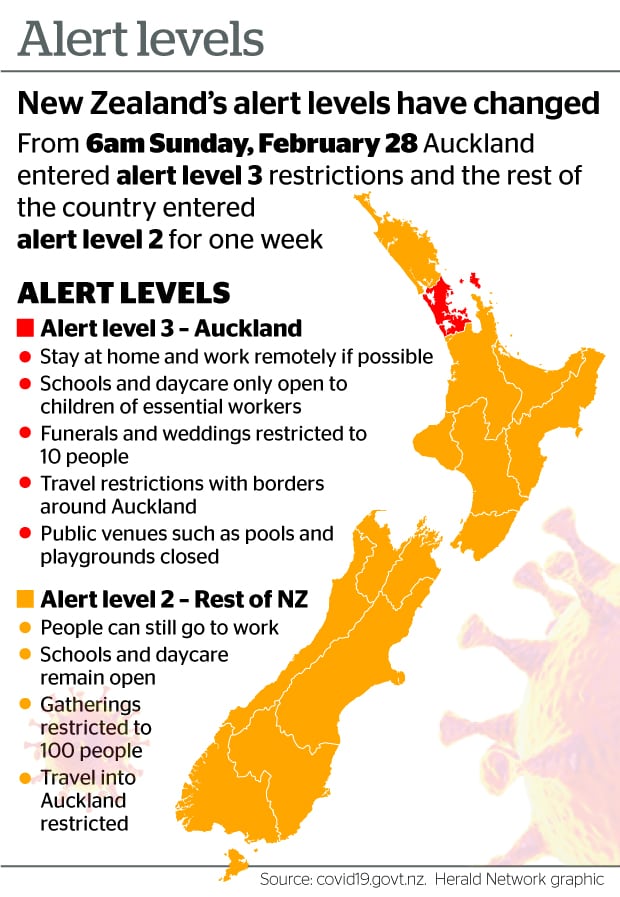 Our clunky system
The NRHCC is coordinating the Covid-19 response across Auckland and Northland. Feeding into it are the three Auckland DHBs and the Northland DHB.
Also in the mix is the Auckland Regional public health unit, which assists with contact tracing, vaccination coverage and other public health initiatives.
In this early phase of the rollout, vaccinations are only occurring in Auckland, with Northland due at a later stage. Despite that, navigating what is happening just inside the Super City's health bureaucracy is messy.
A review into the health sector response to the 2019 measles outbreak highlights this. "The organisation of outbreak management in Auckland, where a single public health unit serves three DHBs with distinct district responsibilities can be complex," it says.
"Several interviewees observed that districts where a public health unit is integrated within a DHB means that information, databases, responsibilities are shared, and in these districts, they may be better equipped to respond to outbreaks."
At the end of last week, the surplus of vaccines meant various hospital employees and frontline community staff were invited to be vaccinated. It appears little care and procedure was taken in contacting those workers, with some community workers responsible for Covid swabbing missing out.
At the beginning of this week, the NRHCC apologised and said a new set of "reserve lists" had been requested from GP clinics and primary care organisations so they could be "individually invited" if vaccine surpluses occur again.
Disappointment in GP land
The day before current lockdown levels were announced, GP Dr Api Talemaitoga and his team at Cavendish Doctors in Papatoetoe were busy seeing patients.
Talemaitoga is also involved in the national Covid response as part of the Health Ministry's Pasifika Covid-19 response team, and the Immunisation Implementation Advisory group (IIAG) – set up to provide independent advice to the Ministry for the vaccine rollout.
When his clinic staff found out DHB workers were getting vaccinated, "it was kind of like – why did they get chosen and not us? And we'd been flat out doing (Covid) tests as well," Talemaitoga said.
It was extremely poor organising from NRHCC, which have since committed to doing better, he said.
Talemaitoga said the mistake must serve as a learning point as the rollout will only increase in capacity.
Yes, there is a vaccination plan but it is still only in the first tranche, which prioritises those most at risk of Covid, like border workers. When NZ reaches the third tranche of the rollout, vaccinations for the general public will take place and that's when daily immunisation numbers will be at their highest, he said.

Source: Read Full Article