On a Lisbon street we watch as a queue forms in the early morning. People are holding bottles of water and waiting for a delivery van to arrive.
When it pulls up, there's an initial rush to the front to be the first to get some of the supplies inside.
The hatch – like you'd see on a food takeaway truck – goes down and the first small plastic cup is handed over. But there's no ordinary beverage inside it.
The liquid is the heroin substitute methadone and what we are seeing is Portugal's answer to a heroin epidemic going back 20 years.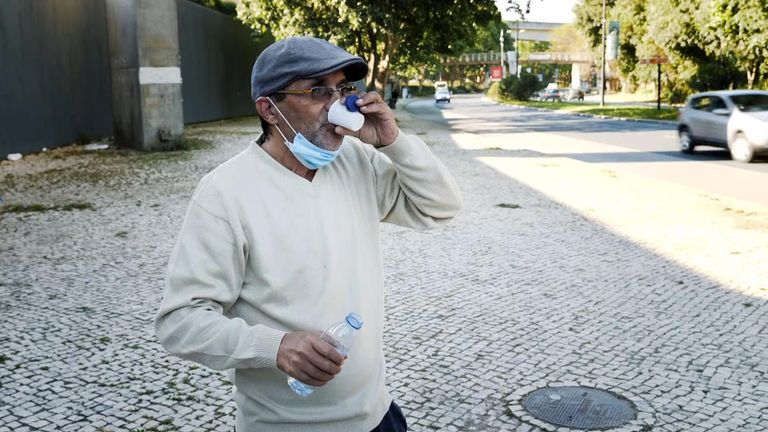 The country decriminalised personal possession and consumption of drugs in 2001 and set up treatment and harm reduction programmes. The methadone programme lies at the heart of that strategy.
The drug users mix the methadone with water (they've had to bring their own bottles since COVID-19) to dilute the bitter taste and swallow it quickly and then head off to their lives.
Some are homeless, others men in suits who arrived in nice cars, there are a handful of council workers in their uniforms. The methadone not only keeps them off street heroin but allows them to function, have jobs, look after their families.
We talk to Tiago Praca whose been a prolific drug user all his adult life. Heroin, crack cocaine, LSD, cannabis, ecstasy – you name it and he's used it. But for the first time in 30 years, since he's been on the methadone programme, he's barely used heroin.
He tells us: "It wasn't necessary to use heroin because I have methadone and this lets me have a regular life. Drugs don't have to be a political, social, economical, criminal problem. This can be a medical problem. This changes my life".
And then he's off on his bike to his pottery studio to make a living.
Close by, we meet Carlos Gomes. A young man whose family live in the UK. He's stopped street drugs for the daily methadone and he turns up religiously at 10am every morning to get his treatment. He tells us that not only is his life better but so is society. He no longer resorts to crime to get a fix.
"I used to steal from people and shops and get the drugs in the ghettos. When I started this programme I stopped stealing. It was the first thing I did, stopped stealing right away. This programme has stopped me doing wrong things."
Source: Read Full Article