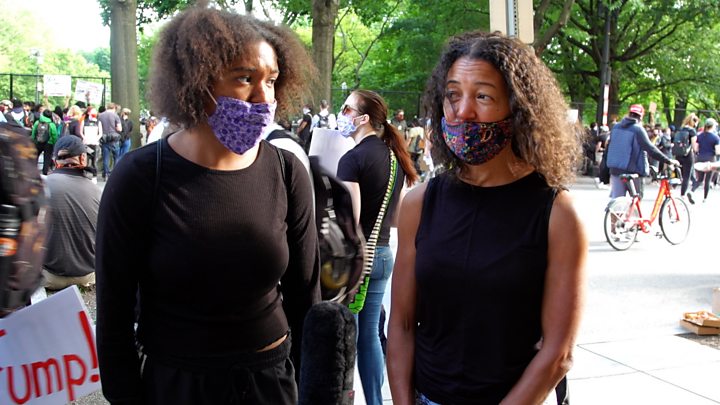 Large crowds are expected to protest in Washington DC against racism and police brutality, amid rising anger in the US sparked by the death of George Floyd.
Mr Floyd died in Minneapolis on 25 May, after a policeman knelt on his neck even as he said he could not breathe.
There have been protests nationwide since, but Washington's police chief believes Saturday's "may be one of the largest we've ever had in the city".
Anti-racism rallies have also been taking place in other countries.
Parliament Square in central London was filled with people supporting the Black Lives Matter movement, despite calls by the British government to avoid mass gatherings for fear of spreading the coronavirus.
In Australia, there were major protests in the cities of Sydney, Melbourne and Brisbane that focused on the treatment of indigenous Australians.
Mr Floyd, an unarmed black man, died after being arrested outside a shop.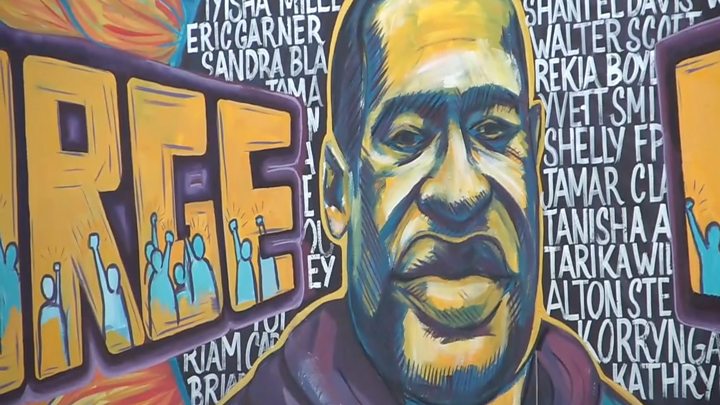 Video footage showed a white police officer, Derek Chauvin, kneeling on Mr Floyd's neck for almost nine minutes while he is pinned to the floor. Mr Floyd is heard repeatedly saying "I can't breathe".
Mr Chauvin has been dismissed and charged with murder. Three other officers who were on the scene have also been sacked and charged with aiding and abetting.
What is planned in Washington?
Almost a dozen different demonstrations have been advertised by organisations and activists, according to local media.
Protesters have been asked to gather at landmarks such as the Lincoln Memorial and the Capitol, and some are expected to march towards the White House.
"We have a lot of public, open source information to suggest that the event on this upcoming Saturday may be one of the largest we've ever had in the city," Metropolitan Police Department Chief Peter Newsham told journalists.
He did not provide a crowd estimate, but Army Secretary Ryan McCarthy said local officials were projecting that between 100,000 and 200,000 people would attend, the Associated Press reported.
More on George Floyd's death
On Friday, Washington Mayor Muriel Bowser, who has clashed with President Donald Trump over his handling of the protests triggered by Mr Floyd's death, asked for the withdrawal of all federal law enforcement officers and National Guard troops from the city's streets.
In recent days, it had become apparent that their presence was "unnecessary" and "may counterproductive to ensuring the protesters remain peaceful", she said.
US protests timeline
George Floyd dies after police arrest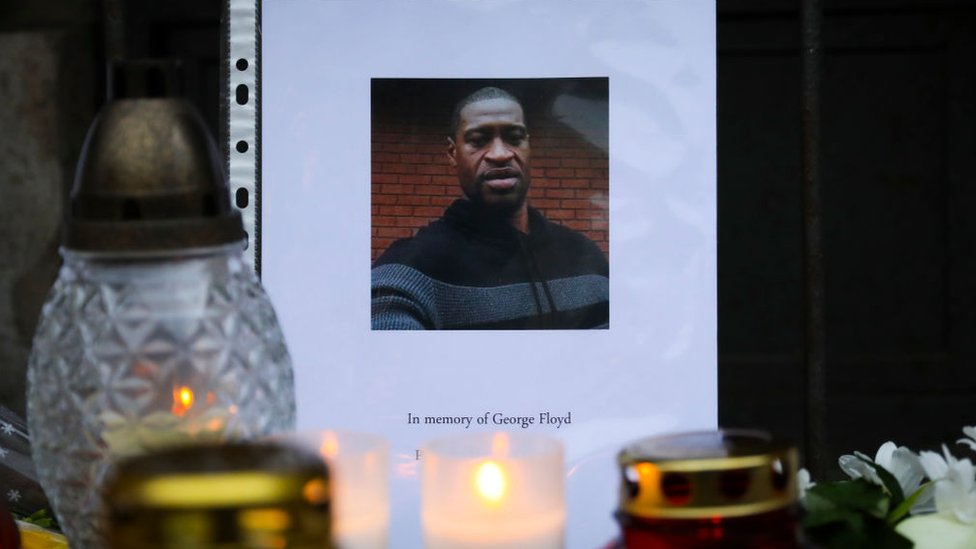 George Floyd dies after being arrested by police outside a shop in Minneapolis, Minnesota. Footage shows a white officer, Derek Chauvin, kneeling on Mr Floyd's neck for several minutes while he is pinned to the floor. Mr Floyd is heard repeatedly saying "I can't breathe". He is pronounced dead later in hospital.
Protests begin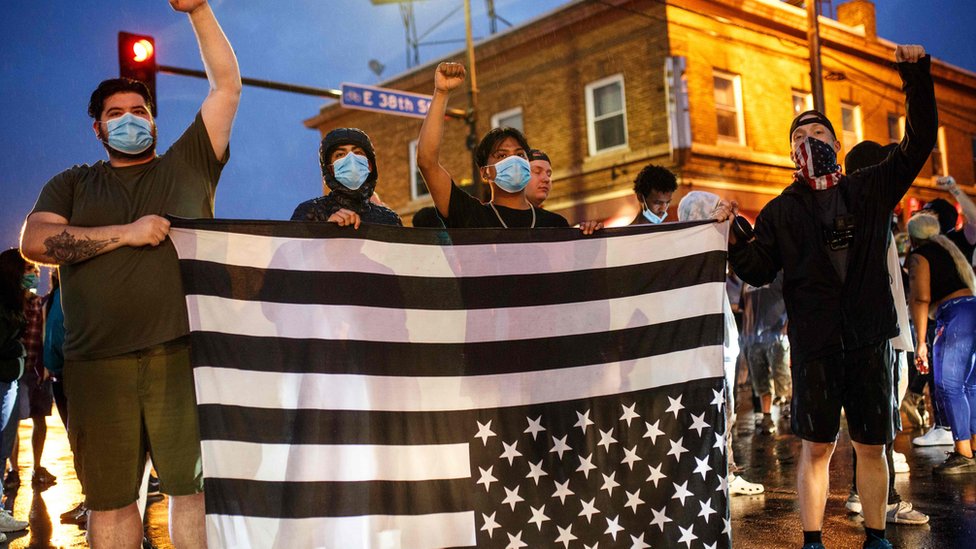 Four officers involved in the arrest of George Floyd are fired. Protests begin as the video of the arrest is shared widely on social media. Hundreds of demonstrators take to the streets of Minneapolis and vandalise police cars and the police station with graffiti.
Protests spread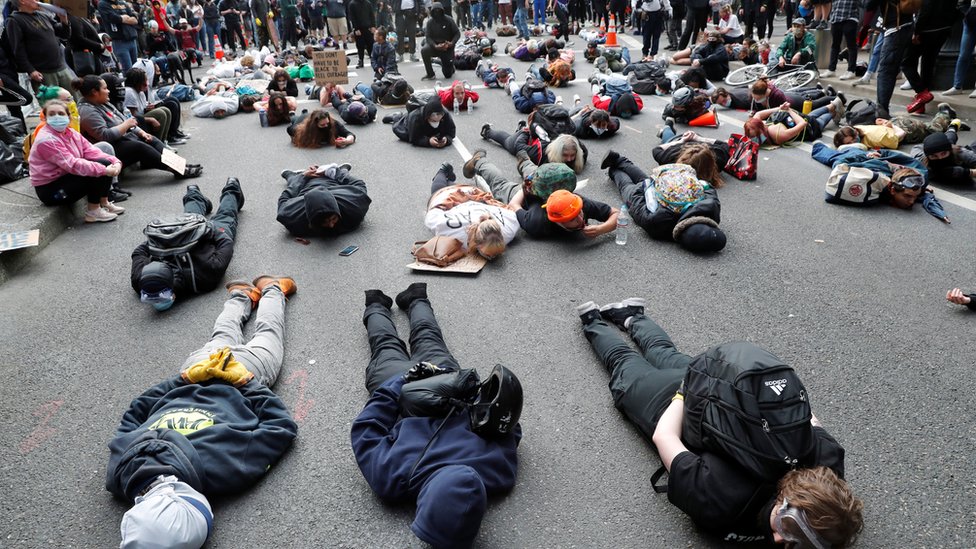 Protests spread to other cities including Memphis and Los Angeles. In some places, like Portland, Oregon, protesters lie in the road, chanting "I can't breathe". Demonstrators again gather around the police station in Minneapolis where the officers involved in George Floyd's arrest were based and set fire to it. The building is evacuated and police retreat.
Trump tweets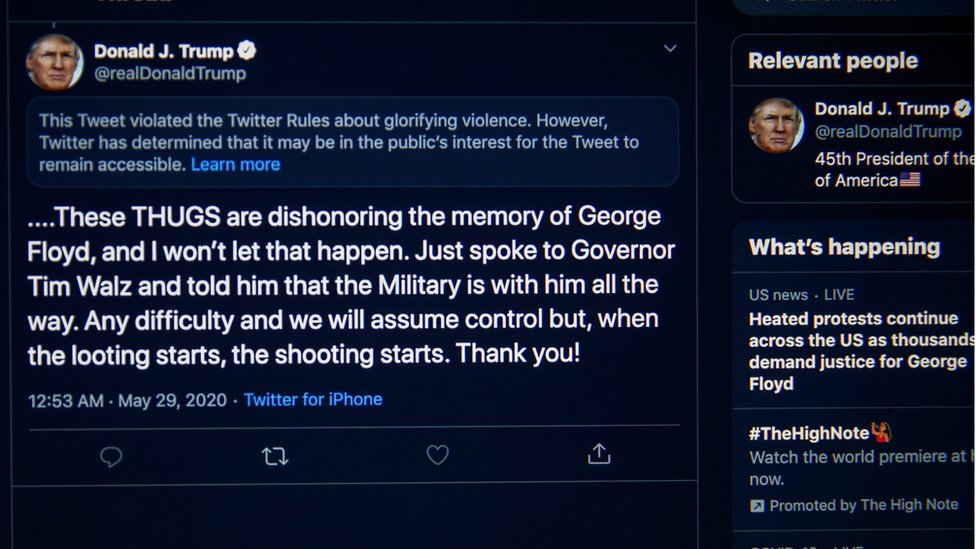 President Trump blames the violence on a lack of leadership in Minneapolis and threatens to send in the National Guard in a tweet.  He follows it up in a second tweet with a warning "when the looting starts, the shooting starts". The second tweet is hidden by Twitter for "glorifying violence".
CNN reporter arrested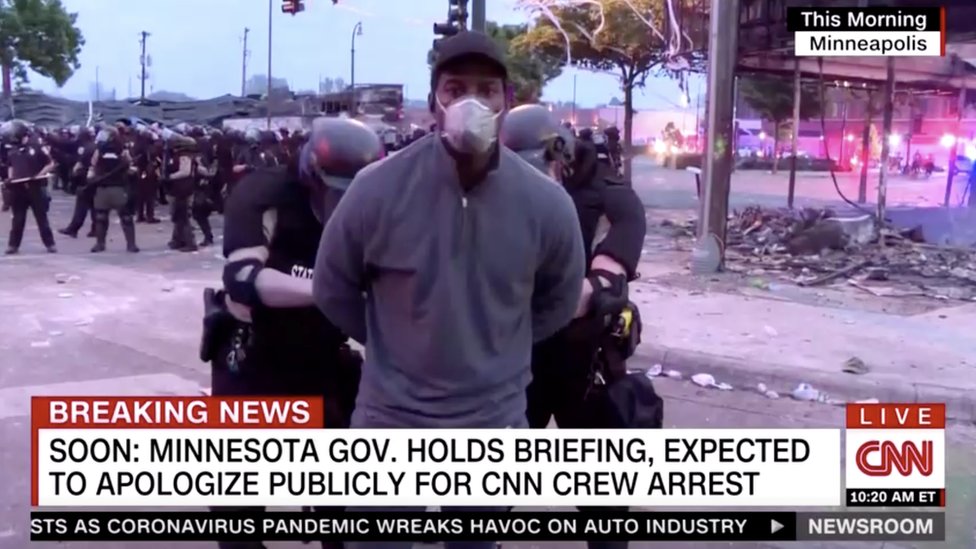 A CNN reporter, Omar Jimenez, is arrested while covering the Minneapolis protest. Mr Jimenez was reporting live when police officers handcuffed him. A few minutes later several of his colleagues are also arrested. They are all later released once they are confirmed to be members of the media.
Derek Chauvin charged with murder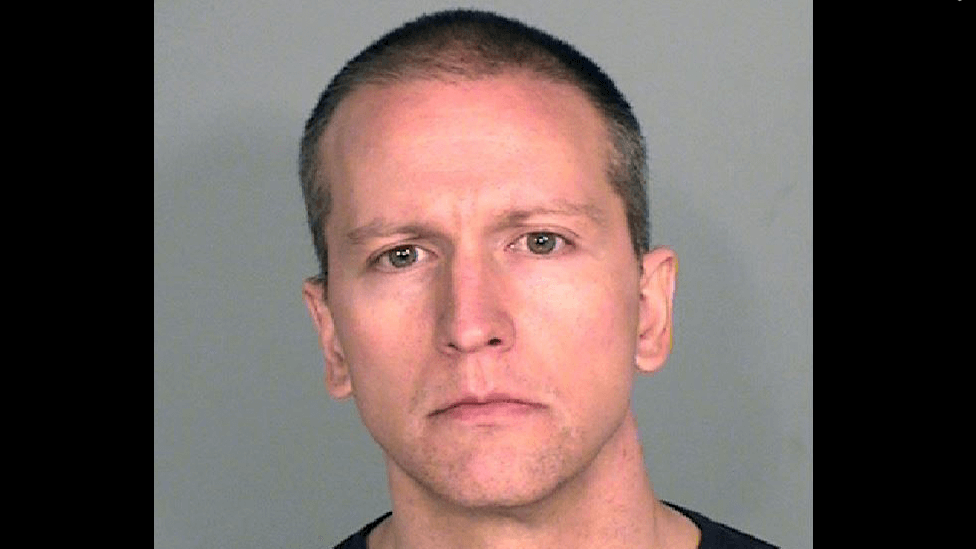 Former Minneapolis police officer Derek Chauvin, 44, is charged with murder and manslaughter. The charges carry a combined maximum 35-year sentence.
Sixth night of protests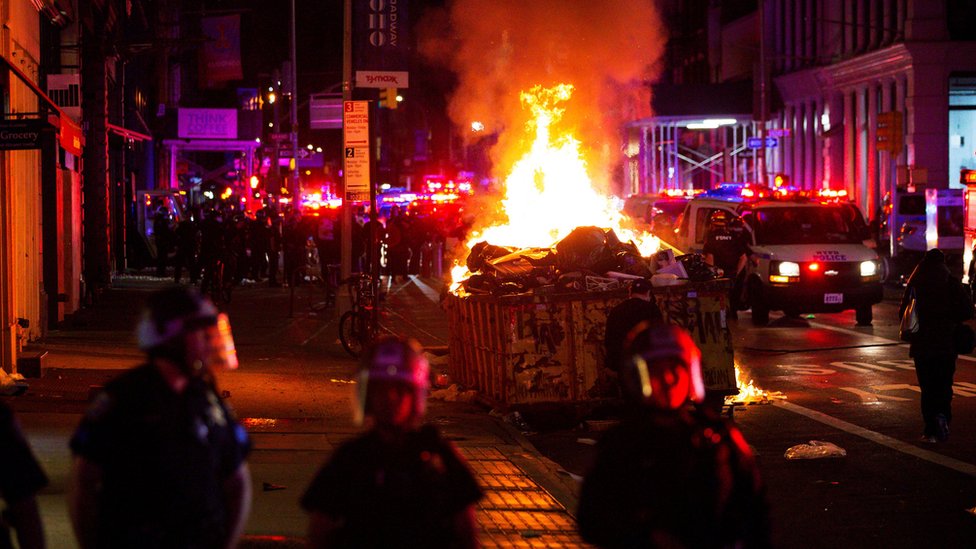 Violence spreads across the US on the sixth night of protests. A total of at least five people are reported killed in protests from Indianapolis to Chicago. More than 75 cities have seen protests. At least 4,400 people have been arrested.  Curfews are imposed across the US to try to stem the unrest.
Trump threatens military response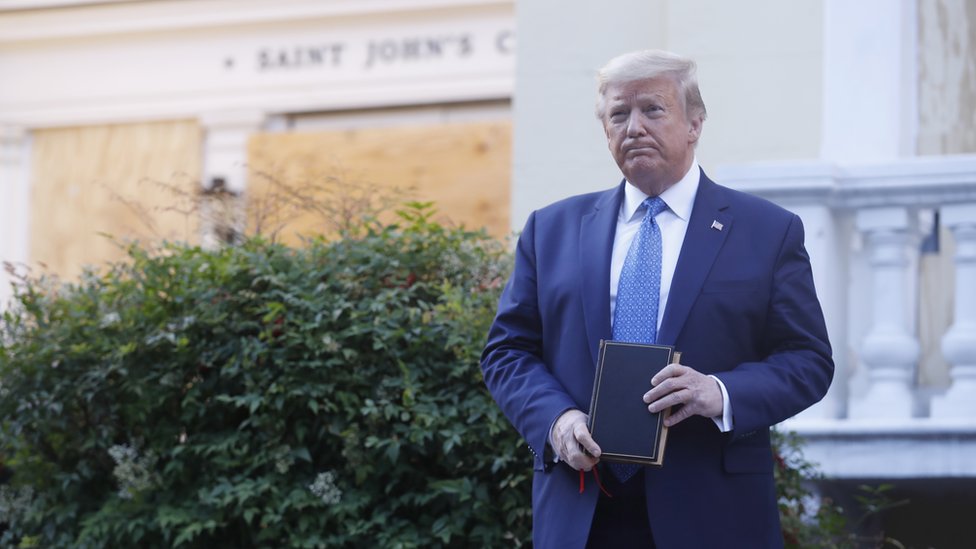 President Trump threatens to send in the military to quell growing civil unrest. He says if cities and states fail to control the protests and "defend their residents" he will deploy the army and "quickly solve the problem for them". Mr Trump poses in front of a damaged church shortly after police used tear gas to disperse peaceful protesters nearby.
Eighth night of protests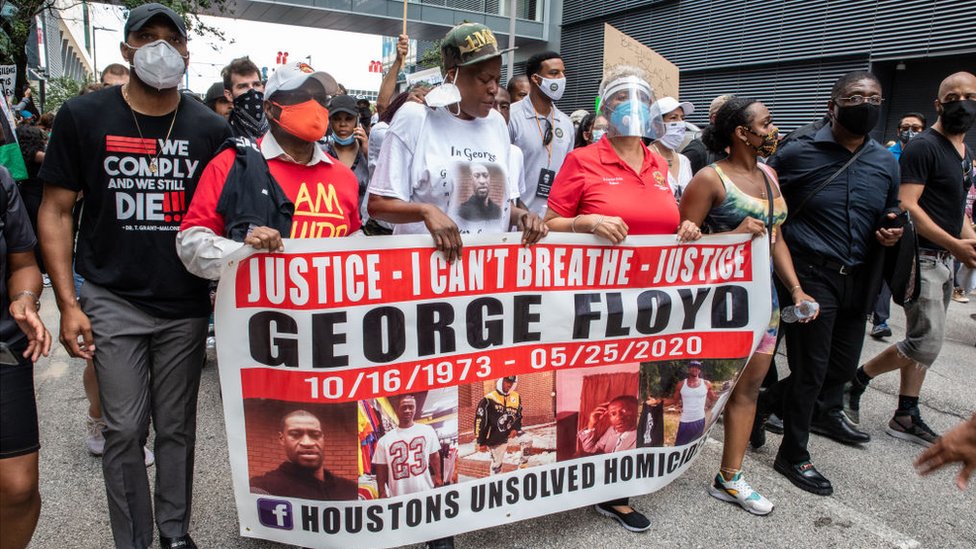 Tens of thousands of protesters again take to the streets. One of the biggest protests is in George Floyd's hometown of Houston, Texas. Many defy curfews in several cities, but the demonstrations are largely peaceful.
Memorial service for George Floyd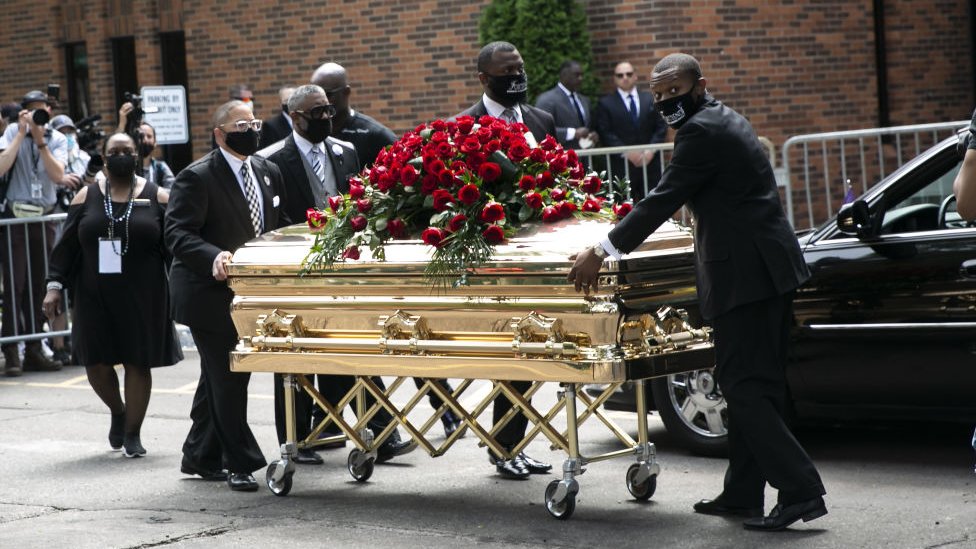 A memorial service for George Floyd is held in Minneapolis.  Those gathered in tribute stand in silence for eight minutes, 46 seconds, the amount of time Mr Floyd is alleged to have been on the ground under arrest. Hundreds attended the service, which heard a eulogy from civil rights activist Rev Al Sharpton.
Source: Read Full Article