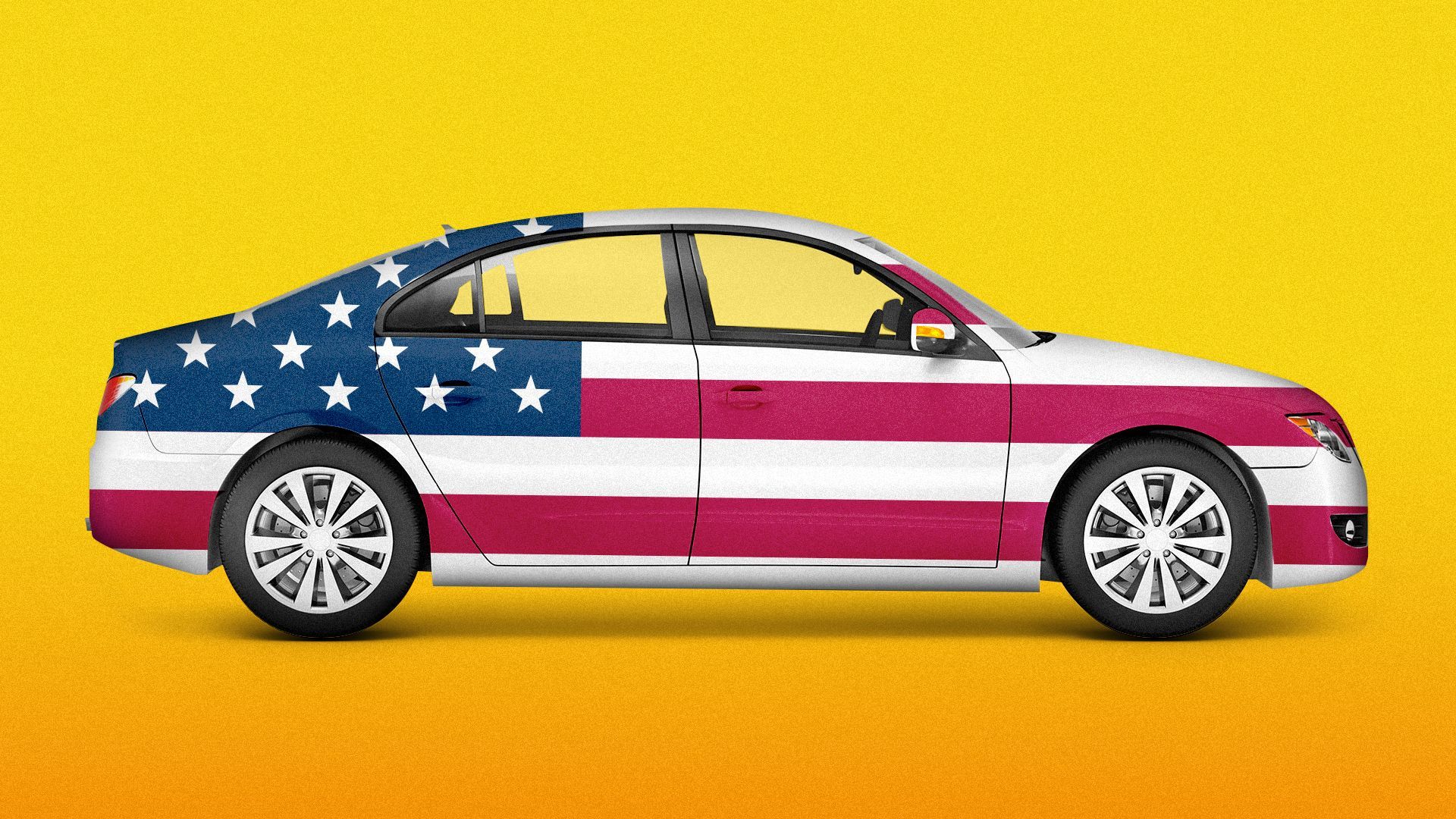 Illustration: Aïda Amer/Axios
Shoppers looking for a tax break on a new electric vehicle (EV) have fewer options starting today — and all of them come from American brands.
Driving the news: The Treasury Department just narrowed the list of EVs eligible for a $7,500 consumer tax credit to U.S.-built cars made with battery components from the U.S. or its trading partners.
It's great news if you're in the market for a Tesla or Chevrolet, not great if you want something from a foreign brand.
Why it matters: The Biden administration is trying to steer Americans toward electric cars with a broad array of new policies, including a recent proposal that would drastically increase tailpipe emissions standards.
But EVs are generally more expensive than traditional cars and remain out of reach for many potential buyers.
Details: Under the new rules, just 10 electric and plug-in hybrid vehicles qualify for the full $7,500 tax credit — about half as many as were eligible before the new rules took effect.
But 90% of the best-selling EVs still qualify, including Tesla's Model Y and Model 3 and the Chevrolet Bolt. (A base-model Bolt will cost as little as $19,995 after the tax credit and destination fee.)
Others, like Ford's Mustang Mach-E, only qualify for half the credit — $3,750 — because their batteries come from abroad.
Nine EVs are no longer eligible, including the Nissan Leaf, Genesis GV70 and Volkswagen ID.4.
See the full list on the Department of Energy's fueleconomy.gov website.
What they're saying: "The requirements were going to be difficult for automakers to meet immediately," Chris Harto, Consumer Reports' senior policy analyst for transportation and energy, says on the group's website.
"But we expect this list to grow quite a bit in the coming months and years as automakers now have clear targets to hit to become eligible, and are working hard to qualify."
The big picture: The White House is trying to strike a balance between promoting broader EV adoption in the short term by lowering effective prices and building a domestic supply chain in the long term.
New price limits and income restrictions are meant to steer the EV tax credits toward mass-market buyers.
For the first time, car buyers who purchase used EVs can also qualify for a $4,500 tax credit.
Plus, lucrative tax credits for companies that build EVs and batteries in the U.S. will likely trickle down to consumers.
Meanwhile: The U.S. has also allocated $5 billion for 500,000 highway EV chargers and another $2.5 billion for community chargers.
The bottom line: The big winners right now: Tesla, GM and Ford.
The losers: Hyundai, Kia, Nissan and Volkswagen, among other foreign brands.
Source: Read Full Article